Address: 1800 Sunset Harbour
Miami Beach, FL 33139
Neighborhood: South Beach
Location: Bayfront
Occupancy: Immediately
Year Built: 1998
Bedrooms:1,2,3
Number of Units: 186
Stories: 25
Price Range:$400,000 to $5,000,000
Do You Own a Unit at Sunset Harbour South ?

Detailed Description for Sunset Harbour South
Click here to see all available condos for sale at the Sunset Harbour South
Sunset Harbour North and South soar 25 stories from the sands of South Beach. At their base a 125-slip marina protects sleek watercraft, reminding condomium owners, who may purchase slips separately, of the potential for sailing, cruising, fishing and water sports that a bayfront development instantly affords. And for those who wish to watch from shore, Sunset Harbour offers a winding bay walk.
The North Tower rose in 1996 and the South Tower 1998. They house 224 and 218 oversized units ranging from 750 to 1,300 square feet. Vistas take in the quiet sunsets of the bay and vibrant life on South Beach. As well as the marina, Sunset Harbour proudly features three gracious heated pools. A fitness center is complemented with two game rooms and two party rooms. Security is ever-present.
Just paces away are the renowned Joe Allen's restaurant as well as one of Miami's largest Publix supermarkets. Lincoln Road's many attractions lay a few more steps beyond. Take those steps and suddenly you are launched on the exciting exploration of the cosmopolitan lifestyle of the incomparable South Beach district. Then migrant home to Sunset Harbour.
Just next door, you could also check out the Sunset Harbour North condo.
125-slip marina
3 heated pools
2 conference rooms
2 game rooms
2 party rooms
Valet parking
24-hour security
Bay walk
Fitness center
Views: Bay, City, Ocean
Pets: 2 pets per unit. Max 45 LBS
Architect: Heime Shapiro
Developer: Pacific International Equities
Sunset Harbour South - List of All Available Apartments for Sale


Price reduction within the last 60 days.


Price increase within the last 60 days


Just listed condos


Foreclosure


Shortsale

Sales Data as of
Sunset Harbour South Floor Plans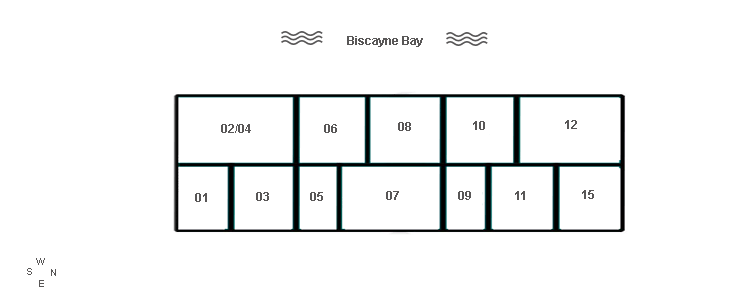 Sunset Harbour South Statistics
Total units in the building:
186
Total units for sale ( click to view ):
0
Units Currently Available for Sale at Sunset Harbour South
Average price per square foot:
$5,400,000.00
Sold Unit Statistics
Average price per square foot:
$524
Number of condos sold in 2014 :
9
Number of condos sold in 2015 to date:
4
Average price per square foot in 2014 :
$560
Average price per square foot in 2015 to date:
$585
Sunset Harbour South Reviews
| | |
| --- | --- |
| Reviews Summary for Sunset Harbour South | |
| Total number of reviews: | 0 |
| Last reviewed on: | n/a |
| | Write a Review (popup) |
Sunset Harbour South- List of All Sold Apartments
| | | | | | | |
| --- | --- | --- | --- | --- | --- | --- |
| Unit # | List Price | Sold Price | Sold $ / s.f. | Bed/Bath | Sq. Footage | Closed Date |
| 2303 | $839,000 | $810,000 | $717 | 2/2/0 | 1130 | 03/19/2015 |
| 1410 | $869,000 | $824,000 | $736 | 2/2/0 | 1120 | 03/05/2015 |
| 1805 | $385,000 | $375,000 | $457 | 1/1/1 | 820 | 02/09/2015 |
| 1005 | $365,000 | $353,000 | $430 | 1/1/1 | 820 | 01/15/2015 |
| 1906 | $895,000 | $865,000 | $692 | 2/2/0 | 1250 | 11/14/2014 |
| 1001 | $699,000 | $685,000 | $617 | 2/2/0 | 1110 | 10/08/2014 |
| 715 | $597,000 | $575,000 | $504 | 2/2/0 | 1140 | 09/29/2014 |
| 1115 | $695,000 | $615,000 | $539 | 2/2/0 | 1140 | 07/01/2014 |
| 709 | $365,000 | $350,000 | $438 | 1/1/1 | 800 | 05/19/2014 |
| 1205 | $370,000 | $355,000 | $433 | 1/1/1 | 820 | 03/20/2014 |
| 2307 | $879,000 | $879,000 | $497 | 3/2/1 | 1770 | 03/07/2014 |
| 2106 | $999,000 | $850,000 | $680 | 2/2/0 | 1250 | 02/24/2014 |
| 1508 | $799,000 | $780,000 | $639 | 2/2/0 | 1220 | 01/20/2014 |
| P320 | $18,000 | $16,000 | $14 | 0/0/0 | 1130 | 11/15/2013 |
| 2008 | $750,000 | $700,000 | $574 | 2/2/1 | 1220 | 11/01/2013 |
| 807 | $580,000 | $644,059 | $364 | 3/2/1 | 1770 | 10/29/2013 |
| 1009 | $385,000 | $365,000 | $456 | 1/1/1 | 800 | 10/04/2013 |
| 1811 | $650,000 | $650,000 | $575 | 2/2/0 | 1130 | 10/04/2013 |
| 1203 | $569,000 | $535,000 | $473 | 2/2/0 | 1130 | 08/07/2013 |
| 1806 | $795,000 | $750,000 | $600 | 2/2/0 | 1250 | 03/19/2013 |
| 1012 | $999,000 | $1,020,000 | $537 | 3/3/0 | 1900 | 03/01/2013 |
| 2403 | $405,000 | $367,500 | $373 | 1/2/0 | 984 | 02/04/2013 |
| 810 | $799,000 | $790,000 | $705 | 2/2/0 | 1120 | 11/19/2012 |


Condos in All Areas
| | | | | | | | | | | | | | |
| --- | --- | --- | --- | --- | --- | --- | --- | --- | --- | --- | --- | --- | --- |
| Our Team | | Contact us | | Resources | | Privacy | | Disclaimer | | | Site Map | | Copyright ©2015 CondoIdeas.com |